Translation Services PAGINA EN ESPANOL

1. Birth Certificates and Marriage Certificates
We translate Birth Certificates, Marriage Certificates, and other documents required by INS for the Immigration process. The cost for a certified birth certificate translation is $40 per each. Turn around time is normally 1-2 days. We also do school transcripts, criminal record certificates, death certificates & more. (cost varies) Your document can be dropped off, e-mailed as an attachment or faxed to us.

2. Other Documents
Normal Rate is 10 cents per word. Min. $40.

You can also send us a copy of your document via email to:
jbooker@sayhola.com and we will calculate the cost for you today.
Summary of Pricing Calculations
Pricing for a translation project is determined by four factors:
1. The number of Source words (word Count)
2. Complexity of the subject matter
3. Language combination
4. The time required to complete the assignment

1. The first factor in determining pricing is the number of Source words in the document. A source language refers to the language being translated from and the target language is the language being translated to. Realize that the end product may contain more pages than the source.

2. Translation pricing (price per word) is also determined by the level of complexity of each document. For example, a general letter will be priced lower than a technical patent, a legal contract, pharmaceutical clinical trial documents or a software manual. A general letter will be priced at the lowest end of the spectrum (7 cents per word) while the legal documents, industry specific materials and technical documents will be at the higher end (10 cents per word).

3. The language combination will also play a part in calculating the price of a translation project. In general, Romance languages are at the lower end of the pricing scale, while Asian languages are at the higher end. Languages available are English, Spanish, Mandarin Chinese, and Japanese.

4. The final factor in determining price is the time required for completion. Normal turnaround times based on total word count are listed below.

(Note that all documents should be presented in a digital format and all translations will be returned in the same format. If the client is not able to provide us with an digital document then there will an addition charge to convert a paper or fax document into a digital document. We also provide the client with a PDF copy of the documents for their archives to prevent accidental corruption of the translations.)

Word Counts – Turnaround Times

Between 0 and 10,000 words
2 weeks
Between 10,000 and 20,000 words
3 weeks
Between 20,000 and 50,000 words
4 to 5 weeks
Between 50,000 and 100,000 words
1 to 2 months
Between 100,000 and 500,000 words
3 to 4 months
Between 500,000 and 1,000,000 words
4 to 8 months

For a free price quote, please contact us at
Beaumont, Texas 409-351-0006
Houston, Texas 409-351-0006
Clients who use our document translation services

Julie Rogers "Gift of Life" Program - Beaumont
Provost Umphrey Law Firm L.L.P. - Beaumont
Gulf Copper - Sabine Surveyors - Port Arthur
Port Arthur Independent School District
Dunn Enterprises, Inc. - Houston
City of Beaumont, Port Arthur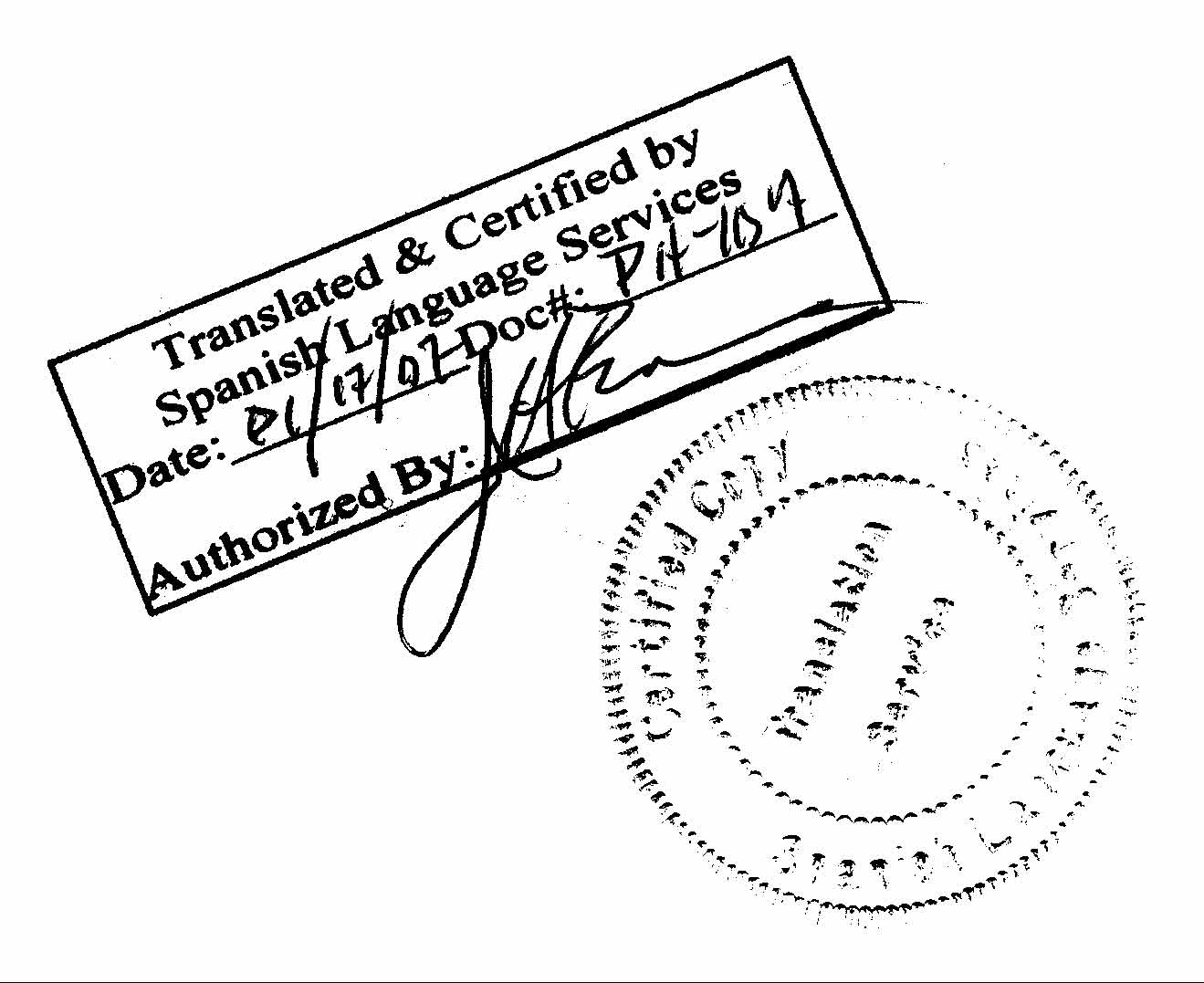 Every Document will be translated by a Certified Translator and every page of the document will receive our Certification Stamp and Seal.
We also translate Birth Certificates, Marriage Certificates, and other documents. The cost for a certified translation for these type of documents is $40/document. School transcripts, criminal record certificate, death certificate etc. vary in cost.
legal translations, certified translation of documents,